There are a few big decisions all bloggers must make when they start their very first blog: what should I call it? What kind of content do I want to write? How do I want it to look? Another one which I completely overlooked is deciding on a blogging platform. When starting out, I researched the most popular platforms, and nosied at which ones my favourite bloggers used. I finally went with Blogger, or Blogspot, as it seemed to be the most suitable platform for the type of content I wanted to produce. Two years on, I am still happy with my decision, despite Blogger's somewhat dated and awkward features!
Tumblr is one of the newest, edgiest and most interesting blogging platforms available. Interesting, because Tumblr shares similar features with Twitter in its 'microblogging' disposition, such as the function of reblogging (the 'Pass It On' of the digital age), resulting in a fast-moving platform that coincides harmoniously with the pace of our daily lives. We want information, and we want it now!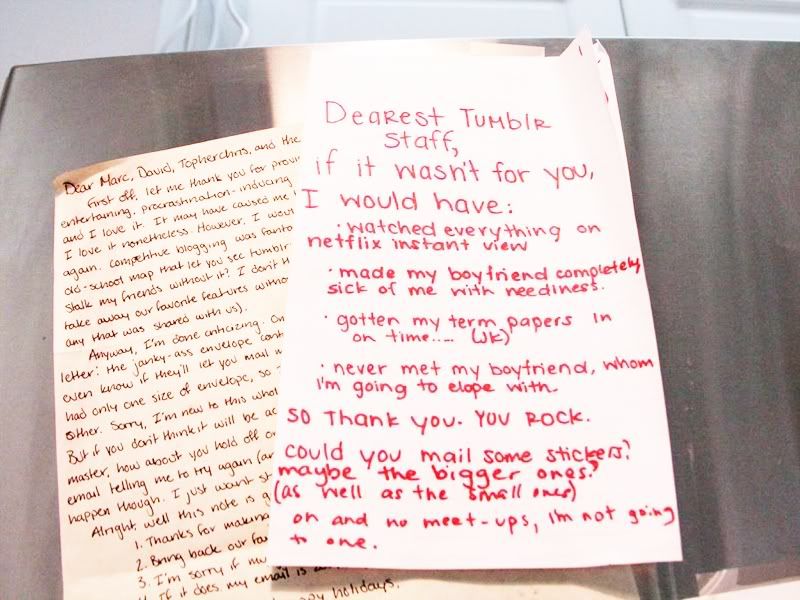 Recently, I've noticed that lots of bloggers have chosen Tumblr as their blogging platform, and a lot have even shut up shop at Blogspot, and moved on to Tumblr. I've been using Tumblr on and off for a little over a year (link!), and in that year all I've done is retweet some pretty pictures and funny Tumblr gifs. My very own mood board, if you like. I don't want to play it down in any way – I have learnt in that year, that Tumblr is a fantastic platform for:
a) inspiration for anything from interior design to some amazing looking food!
b) photography fanatics; these guys know every DSLR model that's ever been made.
c) easy-to-use, sophisticated features and navigation. It's a real pleasure to use.
Their offices are pretty damn cool too.
And now I'm realising that I can do a bit more than just post pictures on my Tumblr blog – last week I embedded my most recent YouTube video without having to write any meticulous HTML coding, and just under that, I pasted some of my own creative writing under a picture of the beautiful Mr Zimmerman. The beauty of microblogging is that I can write whatever is on my mind, and it takes just a few seconds. I can do things on Tumblr that I can't on Blogspot, and vice versa. And because I am such a blogging geek, I am now simultaneously blogging and microblogging.
So really, I can have my blogging cake, and gobble it down too!
Now, for some blogs I have discovered since I started Tumbling…
1. Topshop
Topshop have even jumped on the Tumblr bandwagon now! They're really doing a good job of it, and I love browsing through their street style pictures. They're definitely taking notes from The Sartorialist and other such street style blogs.
2. What Do I Wear?
Another big street style blog that collates some amazing outfits. I also have a soft spot for any blog that has endless scrolling *geek face*.
3. Zooey's Miscellany
Zooey is a true social media nerd like the rest of us! This is her own blog where she posts her Instagram pictures, gossip from the New Girl set and posts that generally show off her funny side. Love her!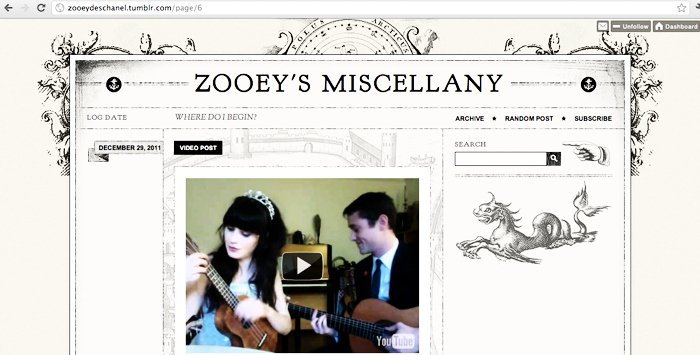 4. Mi Casa Es Su Casa
One of the top dogs in interior decor blogs. Some truly gorgeous stuff on here. Click along and admire.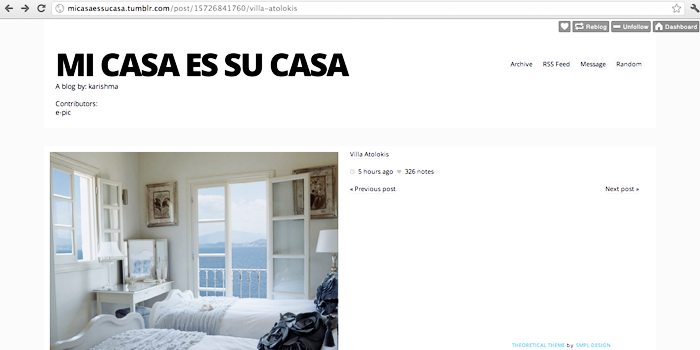 5. Lace And Honey
One of the many Australian Tumblr's I follow is this lady. Besides some seriously funny gifs, expect neon bikinis, envious blonde hair and crystal clear waves. Sigh.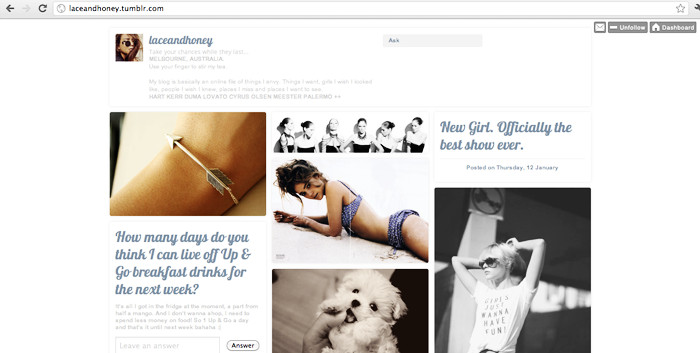 6. Aussie Fool
A more fashion-focused Aussie blog. Effortessly cool, and a banging playlist.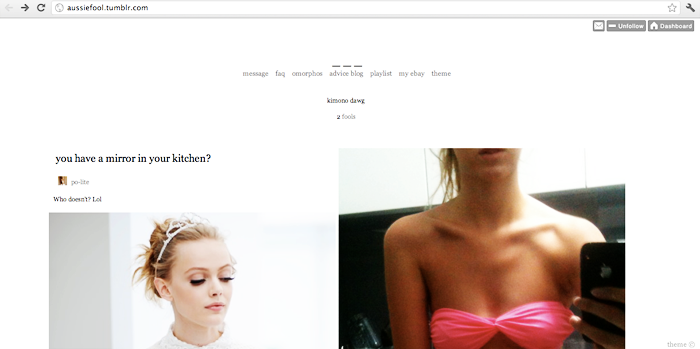 Do you have a Tumblr? What's your favourite blogging platform?